How to support better informal carers of people living with dementia? The untapped potential of web-based support groups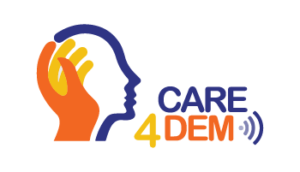 PRESS RELEASE – 18 Sept. 2018
Today, six organisations from across the EU working together for improving the support available for informal carers of people with dementia launch a new report: "Web-based mutual aid groups of informal carers: an evidence review", which gives an insight of the state of play regarding this promising though underdeveloped tool.
Informal carers are an inherent as well as an indispensable part of the provision, organisation and sustainability of health and social care systems. They will become even more important in view of the changing health and care needs, due to the ageing of society and the increasing prevalence of frailty, dementia and chronic disease.
Caring can be a highly demanding task, even more when the caree is a person with dementia. Whereas taking care of a loved one can bring some personal satisfaction, it can also impact negatively on the caregiver´s physical, mental and social well-being. For carers of working age, these difficulties can compromise their inclusion in the labour market. Civil society organisations undertook to address these issues, with initiatives aimed at supporting informal carers of a person with dementia, helping them preserving their health status, remain included in the society while providing quality care in the community.
The transnational project Care4Dem aims to support the development of web-based mutual aid groups for informal caregivers of people with dementia, through the design and the piloting of an innovative model of web-based support group, as well as a competence profile and a blended training for facilitators of such groups.
This report, coordinated by the Instituto de Salud Carlos III, constitutes the baseline of the Care4Dem project. Building on a research, it gives an insight of the state of play regarding this particular type of support, the development of which was not well documented. In particular, the report looks at the methodologies applied, and the competences and profiles of the moderators. As such, this publication aims to emphasise a series of useful pointers for the development of an innovative model of web-based mutual aid groups for dementia carers as part of the CARE4DEM project.
Access the summary of the report in English, Italian, Spanish, Portuguese and Romanian.
Access the full version of the report in English
Access the webpage of the project
BackgroundInformal carers are persons who provide care (usually unpaid) to someone with a chronic illness, disability or other long-lasting health or care need, outside of a professional or formal framework. Informal carers across the EU provide over 80% of all care, with women providing approximately two thirds of care mainly as daughters (in law) and wives/ partners. In our ageing societies, more and more people endorse informal caregiving activities. Dementia in the common name for many different brain disorders which are degenerative, causing a decrease in functional capacity and human interaction. Dementia has become a high priority in the 21st century as Organisation for Economic Co-operation and Development (OECD) estimates 9.6 million people live with some type of dementia in EU countries and World Health Organization (WHO) reports the economic cost of dementia to be higher than the expenditure in cancer, heart diseases or depression. The CARE4DEM project: developing an innovative web-based model of mutual aid group for informal carers.
The European project CARE4DEM (2017-2020) is supported through the programme Erasmus+. The project's partnership is coordinated by Anziani e Non-Solo (Italy), and gathers five organisations from Italy, Portugal, Romania and Spain and a European umbrella organisation. CARE4DEM stands for creating opportunities for all caregivers to take part in interventions likely to help them in their role, by developing an innovative model of web-based mutual aid group.Care4Dem specific objectives are:
To design and develop an innovative web-based model of mutual aid group for informal caregivers of people with dementia, including learning materials for caregivers;
To identify the profile and competences that are the most suitable to the role of facilitator of such a group;
To develop a multimedia training course to enhance the competences of mutual aid groups' facilitators;
To pilot a web-based mutual aid group model;
To create a network of professionals across Europe who work towards better support of informal caregivers of people with dementia.
The European Commission's support for the production of this publication does not constitute an endorsement of the contents which reflects the views only of the authors, and the Commission cannot be held responsi­ble for any use which may be made of the information contained therein.
Twitter
Caring for a person with dementia is not always easy: how to support carers better? Learn about the untapped potential of web-based support groups in the report launched today by the Care4Dem partnership and discover the project
https://www.eurocarers.org/care4dem/Publications?lang=