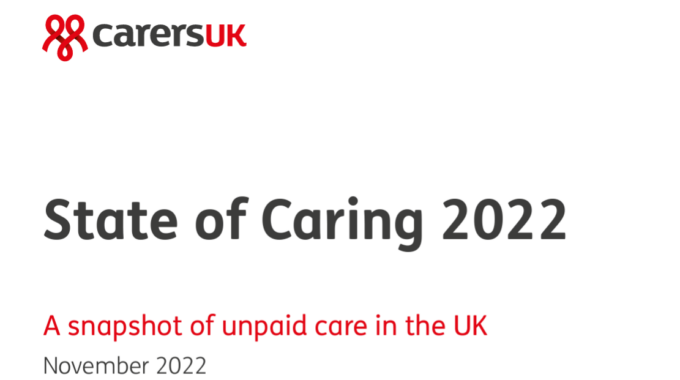 New Carers UK State of Caring research – unpaid carers and poverty
Carers UK has recently released new research which finds that thousands of unpaid carers continue to struggle financially and are being forced into poverty because of the cost of living crisis and a benefit system that is unfit for purpose.
Based on findings from the State of Caring 2023 survey, the research highlights how carers, particularly those receiving Carer's Allowance, are extremely vulnerable to high costs due to their limited ability to earn an income and because of the additional caring costs that they face.
They found that 75% of unpaid carers receiving Carer's Allowance are now struggling with cost-of-living pressures, almost half (46%) are cutting back on essentials including food and heating, while 45% said they were struggling to make ends meet; a rise of 6% compared with 39% last year.
The research also showed that, of carers receiving Carer's Allowance:
34% are struggling to afford the cost of food, compared with 21% of all carers – an increase from 29% in 2022.
71% are worried about living costs and whether they will be able to manage in the future, compared with 61% of all carers.
72% are worried about the impact of caring responsibilities on their finances (e.g., petrol for hospital visits, heating, specific dietary requirements).
54% had cut back on seeing family and friends, compared with 43% in 2022 and 38% in 2021.
A carer from Manchester, who gave up her career as a speech and language therapist to care for her husband when he was diagnosed with MS and receives Carer's Allowance, is amongst those carers who have had to make desperate choices. She told us: "I am regularly skipping meals. We have skipped lunch for the last 9 months. Now I sometimes cook just for my husband, and I skip dinner. Sometimes I have cereal for dinner. Sometimes I have a jar of baby food. It is 95p and often reduced further. I can eat baby food for dinner to save money."
As a result of the intolerable financial pressures carers are facing, Carers UK is calling on the Government to urgently overhaul Carer's Allowance and increase the earnings threshold for claiming the benefit so that carers can continue to earn alongside their caring responsibilities. At only £76.75 a week for providing a minimum of 35 hours of care, Carer's Allowance remains the lowest benefit of its kind – equivalent to £2.19 per hour of care provided.
More immediately, unpaid carers urgently need a financial boost this winter to ensure they can survive the winter months. That's why we are also calling on the Government to provide carers with additional and targeted financial support now, to prevent even more unpaid carers falling into poverty at the harshest time of year.
If you have any questions about this research, please do not hesitate to contact policy@carersuk.org.